The Pulse: Project Portfolio Management for Architecture & Engineering Firms
The Pulse is a central hub for architecture and engineering firms to manage, analyze, and understand their projects. With six different tabs that give critical project information, firms can finally view the intersection of time, resources, deadlines, dollars, and profit without having to combine multiple excel sheets to get there. The ability to view high-level status or dive into deep detail with ease will leave you wondering how you ever operated without this.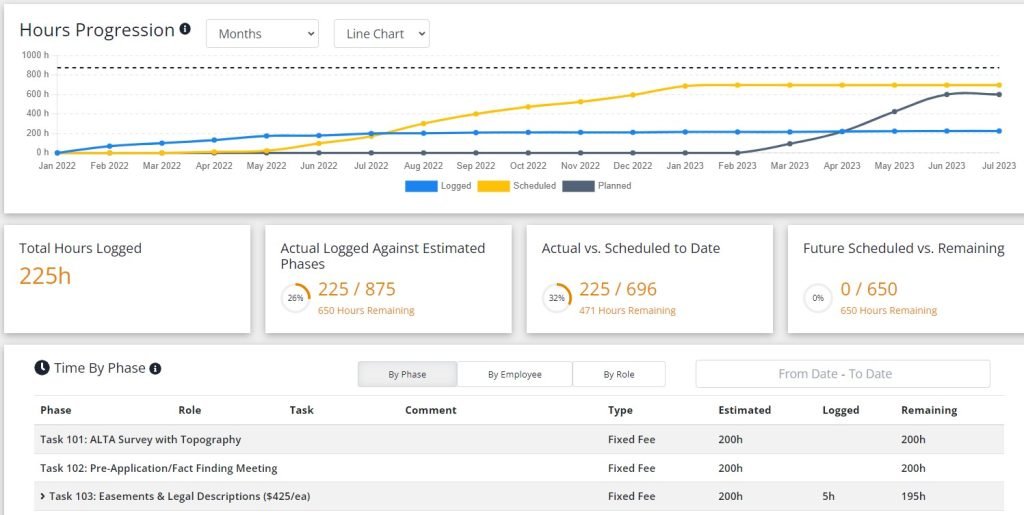 It's the visibility every Project Manager or Studio Director wants: see the progression and detail of hours spent on a project by date, phase, individual or role. Compare the time logged to planned values, dive into specific time entries, address issues, and make adjustments with easy-to-understand charts and clear data.
Show me the money! The budgets dashboard immediately communicates the breakdown of dollars budgeted, spent and invoiced by phase with the additional benefit of sub-consultant and expense information. Identify which phases may cause a problem and fix it before it affects the overall project outcome.
Are you profitable? This is often much harder to answer than it should be....but not with The Pulse profit dashboard. Those with proper permissions can evaluate profitability on projects for any date range. View overall profitability as well as the breakdown by services vs subconsultants and any adjustments.
Financial information is important to every project, but so are the promises to clients on when certain aspects of the project will be finished. Keep track of and edit your project phase dates and milestones with the firm-level timelines view in The Pulse.
Keeping a pulse on your projects means understanding who you have working on them and when. Plan hours by project or by employee and view how those assignments will affect utilization and capacity in real time.
Enjoy a comprehensive view of all tasks currently assigned in your firm via The Pulse tasks tab. Filter appropriately or sort by due date to see your upcoming deadlines, who has marked which tasks complete, or which tasks may be taking longer than expected.