Factor A/E End-of-Year Feature Wrap-Up
As the year comes to an end, many of us have a tendency to experience tunnel-vision-type focus on everything we want to accomplish in the year ahead. What's next on the roadmap? What large feature set will we release next? How do we execute on all of the client feedback we have received?
But wait - it is just as important to take a step back and see how far we have come these past 11 and half months….and wow! What a year 2022 has been.
Factor hit record growth numbers and continued on our mission to serve the A/E industry with first-class project management, time tracking, and invoicing software built specifically for the way A/E firms work. We've attended events, sponsored events, and even won an award at the AIA Chicago Conference this year!
Sometimes we get lost in the work as we are busy doing it, but just as an architect or engineer can watch their plans come to life in the form of physical new structures, we can do the same with all of the features that have been added to Factor this year. Without further ado, here is the wrap-up of feature enhancements, brand new functionality, and technical improvements that Factor has brought to you in 2022.
Application Features
At-A-Glance Project Management
We know how important it is for A/E firms to be able to view project status information at-a-glance. That's why our 2022 update to the project list screen made it more than just a navigation tool – this page now shows critical dates like current phase, upcoming milestones, and time of last invoice in addition to a visual indicator of each project's budget progress.
Helpful filters make finding specific projects even quicker so you can dive into more details if needed.
We've also made it easier than ever to duplicate project templates and create new templates from already-existing projects. One simple button from the project overview tab will make any project you already have into a template you can use for the future.
Task Management

For more granular project tracking, task management was brought to Factor in 2022. Tasks live as an optional part of each project for those firms who need more than two-levels for phase breakdowns or who simply want to be able to assign very specific work items to specific people. Task timelines are also displayed on the project-level gantt chart to enable project managers to get a full understanding of each part of their project, who is responsible for completing certain items, and when they are due.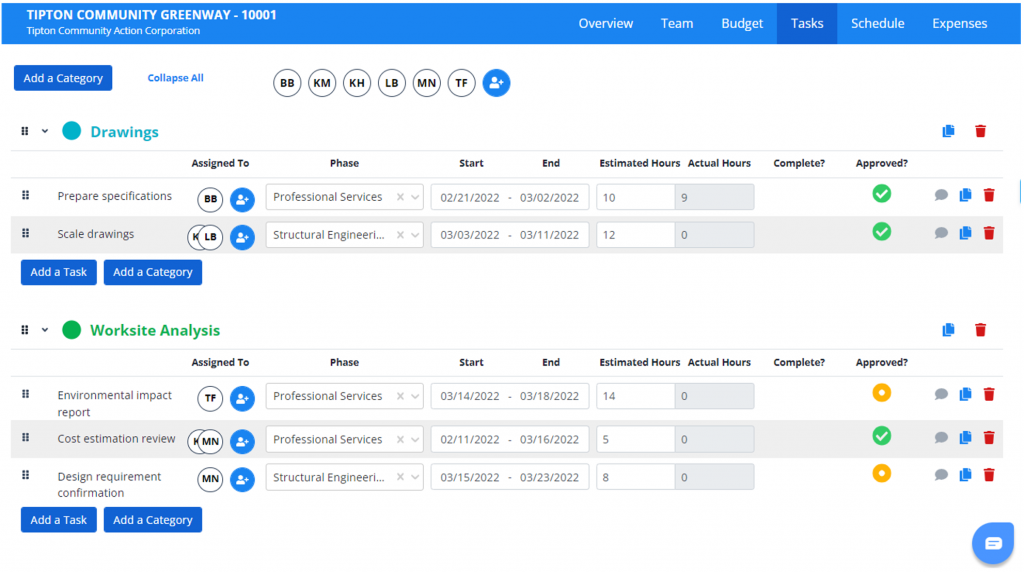 Scheduling
A huge goal for us in 2022 was to give firms more power for creating and managing project schedules, not only for the projects themselves, but also for the resources needed to hit those client deadlines.


And while entering dates can be helpful, this kind of information is much easier to digest in visible format… you guessed it – more gantt charts!


Project Managers and others key roles in the firm can now create, edit and view project-specific schedules with phase and task information as well as phase timelines and task assignments across all projects at once.
In addition to timelines, hours can be allocated to employees on each project for planning purposes. Each assignment will auto-adjust the employee's capacity based on their target utilization setting. With the capacity dial and the ability to toggle between project views and people views, it has never been simpler to identify which team members have time to spare vs those who are overloaded.
Timesheets & Time Approval
Where are these assignments communicated so that everyone is in the loop? The one place that every employee will have access – their timesheets!
Employees can view both the projects they are assigned to for current and upcoming weeks as well as the specific tasks they are assigned to with due dates, estimated hours, hours logged, etc.
In addition to increased visibility for employees, Factor allows the flexibility for firms to choose whether they want to follow a formal time approval process or not. For those who do, the approval workflow was updated this year to give approvers more control over setting time periods and viewing the status of each employee's timesheet (submitted, approved, rejected, etc.).
Invoicing Redesign and Improvement
The ability for firms to create beautiful, customized invoices in Factor didn't change, but the layout and way you build the invoice was redesigned to make it even more intuitive in 2022. The new left-navigation invoice builder allows you to see the amounts you have added from each section (fixed fee, hourly, expenses, etc.) and makes it easier to toggle between the tabs for editing if needed. While the process of creating your invoice has improved, the outcome is the same with a first-class invoice that wows your clients.
Enhancements to QuickBooks Integration
A huge benefit to any firm using QuickBooks Online is the ability for financial information to be communicated back and forth via our 2-way integration. This mechanism was made even better in 2022 with all updates now occurring in real time.


Another helpful addition on the QuickBooks side of things is Factor users can now view attachments on expenses that have been imported over from QBO.


Reporting
Next area with major improvements is everyone's favorite: reporting.
We've seen some of the spreadsheets used to figure out pay when paid statuses for subconsultant bills and let's just say, many of them weren't pretty! We know this is all too common in the industry, so we decided to build it right into Factor. Now the "View Expenses" tab gives you an interactive screen displaying all project expense information, but most importantly will give a "ready to pay" status for any subconsultant bill where a payment has successfully come through from the client and covers that bill amount.
Video Library Access
Ongoing training, simple reminders, and supplemental how-to's are helpful when using any platform so this year, we moved our video library directly into the application. Whether you are a new firm in a trial or an existing firm with new employees, you can get to any training video at any time.
Technical Improvements
Though the new features are what most of our clients get excited about, none of it would work without keeping the backend technology fresh and up to date. In addition to all of the client-facing improvements listed above, our development team was hard at work improving the Factor login security model to provide single sign-on capability and updating the code framework for increased application speed and improved scalability.
What's Next?
Okay, now that we have given 2022 the credit it deserves, we can't deny that it is always exciting to think about the future! The Factor team will be turning it's focus toward CRM functionality, better pre-billing workflows, more details for cross-project scheduling and more in 2023. Cheers to another great year and stay tuned for further announcements as more information on these updates becomes available.
Experience Better Visibility Into Your Projects With Factor
Streamline your processes and increase profitability. Get started today!